News story
Norman Lamb appointed Employment Relations and Postal Affairs Minister
Business Secretary Vince Cable said: "I am delighted to welcome Norman Lamb to the Department. Norman's professional background as an employment…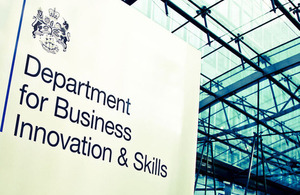 Business Secretary Vince Cable said:
"I am delighted to welcome Norman Lamb to the Department. Norman's professional background as an employment lawyer and experience as the Liberal Democrat's Trade and Industry Spokesman make him an ideal replacement.
"Norman pioneered our policy to privatise Royal Mail and establish employee share ownership in the business so it is fitting that he will be responsible for implementing that policy.
"I wish Edward Davey well in his new Cabinet role. He has made a fantastic contribution to the Business Department's work; successfully steering the Postal Services Act through Parliament to secure the future of Royal Mail, formulating the proposals to introduce a system of shared parental leave and negotiating the first small business exemption in European regulation, to name but a handful of his achievements."
Norman Lamb, Minister for Employment Relations, Consumer and Postal Affairs said:
"I'm honoured to be joining a Department which is doing such an incredibly important job delivering the jobs and growth Britain needs. In particular, I'm pleased to be implementing the Royal Mail reforms I pioneered in opposition and giving employees a stake in the company.
"Edward Davey has been an immensely impressive minister and I look forward to picking up where he left off. And I am thrilled to be working alongside my friend and colleague Vince Cable who is doing excellent work to get Britain back on its feet."
Mr Lamb has been an MP for North Norfolk since 2001. Before he entered Parliament he was a partner at law firm Steeles Law where he was the head of the firm's specialist Employment Unit.
**Notes to editors **
A full list of Norman Lamb's responsibilities can be found at www.bis.gsi.gov.uk

A full biography of Norman Lamb:
Norman Lamb
Norman Lamb became Member of Parliament for North Norfolk in 2001.
Norman read law at the University of Leicester. He worked for a year as a Parliamentary Assistant for Greville Janner, QC, MP. He worked for Norwich City Council as a senior assistant solicitor before joining Norfolk solicitors Steele and Co., where he became a partner and head of the firm's specialist Employment Unit. He is also a published author and wrote 'Remedies in the Employment Tribunal; Damages for Discrimination and Unfair Dismissal' published 1998.
He was a member of Norwich City Council 1987-91, leading the Liberal Democrats for the last two years of his term.
Norman has held various positions in the Liberal Democrat party. He was Lib Dem Deputy Spokesperson for International Development (2001-02), a Treasury spokesman (2002-03), PPS (Parliamentary Private Secretary) to Charles Kennedy (2003-05) and Shadow Trade and Industry Secretary (2005-06).
He was a principal author of the party's policy on Royal Mail.
From March to December 2006, Norman was Chief of Staff for party leader Sir Menzies Campbell. In December 2006 he was appointed Liberal Democrat Shadow Health Secretary.
In May 2010 Norman was appointed Assistant Government Whip, as well as Chief Parliamentary and Political Adviser and Parliamentary Private Secretary to the Leader of the Liberal Democrats and Deputy Prime Minister, Nick Clegg.
Norman is married with two sons and lives in Norfolk and is a keen Norwich City supporter.
BIS's online newsroom contains the latest press notices, speeches, as well as video and images for download. It also features an up to date list of BIS press office contacts. See [http://www.bis.gov.uk/newsroom](http://www.bis.gov.uk/newsroom) for more information.
Notes to Editors
Contact Information
Name BIS Press Office Job Title
Division COI Phone
Fax
Mobile
Email NDS.BIS@coi.gsi.gov.uk
Published 3 February 2012