Press release
Norgrove to step down as Pensions Regulator chair at end of his term
David Norgrove, chair of the Pensions Regulator, has said he will be stepping down when his post comes to an end on 31 December 2010.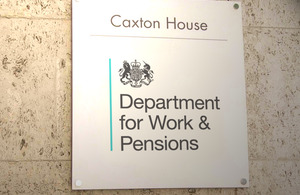 The Department for Work and Pensions announced today that David Norgrove, chair of the Pensions Regulator, has said he will be stepping down when his second term in the post comes to an end on 31 December 2010.
The Secretary of State will begin recruitment for a successor in September, to have a new chair in place for the start of January 2011.
The Pensions Regulator will coordinate recruitment for its new chief executive with this timetable, to allow the new chair to be involved in selection of the chief executive.
Minister for Pensions, Steve Webb said:
The regulator plays a crucial role protecting pension scheme members while ensuring Britain has a vibrant pensions industry.

I have very much enjoyed working with David Norgrove.  I am grateful to him for completing, as planned, his second full three-year term and for the considerable contribution he has made.
David Norgrove said:
The regulator has built up a strong track record of delivering effective regulation through a range of economic circumstances, and I am confident that this resilience will continue in the future. I would also like to thank the regulator's staff for their support over nearly six years.
Mr Norgrove was appointed as the first chair of the Pensions Regulator in January 2005. He was reappointed in 2008, and will remain in post until his three-year term ends.
Notes to Editors:
Primary legislation requires DWP's Secretary of State to appoint a Chairman of the Pensions Regulator. It also requires The Pensions Regulator to appoint a Chief Executive, subject to the approval of the Secretary of State as to terms and conditions.
David Norgrove was first appointed to the post of Pensions Regulator from    January 2005 for a term of three years. He was reappointed for a further three year term from 01 January 2008.
Tony Hobman left the The Pensions Regulator in May this year to take up post as Chief Executive of the Consumer Financial Education Body. Bill   Galvin is the regulator's acting chief executive.
Recruitment to the post of Chairman of The Pensions Regulator is regulated by the Office of the Commissioner for Public Appointments.
The Pensions Regulator is the regulator of work-based pension schemes in the UK, with objectives to protect members' benefits, promote good administration and reduce the risk of calls on the Pension Protection Fund. Its approach is risk-based focusing on education and enablement, with enforcement where appropriate. It has the ability to:

collect information about pension schemes; through scheme returns, under the scheme funding regime and as well as statutory (including whistleblowing) reports;
issue notices requiring actions to tackle non-compliance, prohibit trustees who are judged not fit and proper to carry out their duties or appoint independent trustees;
direct pension schemes as to how to calculate their liabilities and the contributions required;
issue a contribution notice where there is an attempt to avoid liabilities, or a financial support direction where the employer is a service company or insufficiently resourced.
Published 3 August 2010