Press release
Norfolk farmers blazing a trail in farming innovation
Farming Minister George Eustice praises the innovation of the Norfolk farming industry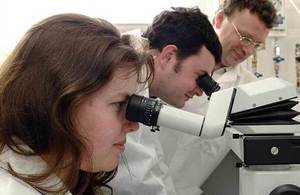 From super peas to healthy soils, Norfolk is a hotbed of farming innovation that is leading the way in revolutionising British agriculture, Farming Minister George Eustice said today.
Speaking at the Norfolk Farming Conference at the John Innes Centre, George Eustice highlighted the efforts of the Norfolk farming industry which plays host to some of the UK's leading agricultural innovators.
Hubs of innovation throughout the region are driving forward practical uses of technology to benefit agriculture and bring fresh thinking to how we grow food. These include the John Innes Centre, the Institute of Food Research, The Sainsbury's Laboratory and the University of East Anglia.
Farming Minister, George Eustice said:
Norfolk is leading the way in developing and using exciting, new technologies in farming, from growing new types of animal feed to using data to ensure the healthiest soils for crops.

We want to see our agriculture sector grow, become more competitive and more profitable, taking innovations from the laboratory to the farm.

Centres of excellence like the John Innes Centre and the Sainsbury's Laboratory will play a crucial role in realising this ambition.
The Minister highlighted success stories that show Norfolk's ability to break new ground across the farming industry include:
The Norwich Rust Group - a partnership of seven scientific teams that are leading on a project to investigate how to prevent a parasite which feeds of crops causing billions of pounds worth of loss world-wide each year. The project will look at how the Rust fungi parasite feeds off plants and will use new techniques to locate genes in some varieties of crops which are resistant to the parasite.

A partnership between the John Innes Centre, Harper Adams University and Rothamsted Research - which is working to better understand the impact of crop growth on soil health, to identify the right plants to grow at the right time.

Scientists from the John Innes Centre – who have developed a type of pea for animal feed which will aid animal digestion by helping them absorb more protein. In addition to helping animals get more from their feed, better protein digestion in livestock also decreases the nitrogen content of livestock manure. Nitrogen can have environmental impacts through pollution of watercourses.
The government has invested £160 million through its Agri-Tech Strategy to improve the flow of ideas and solutions from the laboratory to the farm.
The strategy is designed to ensure the UK becomes a world leader in agricultural science and technology.
Published 11 February 2016