Press release
Non-judicial member appointment to the sentencing council
The Lord Chancellor today announced the appointment of Mark Castle as the new non-judicial member of the Sentencing Council.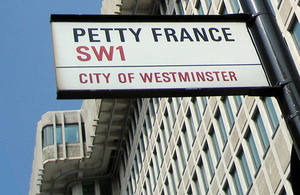 The appointment is for an initial term of 3 years from 1 August 2015, subject to security clearance.
Mark Castle is currently the Chief Executive of Victim Support which he joined in June 2014 on his departure from the Association of Police and Crime Commissioners where he was Chief Executive.
He previously served in the Army retiring as a Brigadier in 2009. During his 31 year military career Mark served in Germany, Belize, Northern Ireland, Bosnia and Iraq. In 2003, he commanded British forces in Maysan Province, Iraq, leading the stabilisation and reconstruction operations.
In his final military appointment as the Deputy Commanding General of the Ministry of Interior Transition Team Mark led the mentoring of the Iraqi Ministry by military, police and civilian experts advising on measures to improve public confidence and increase efficiency.
The appointment has been conducted in accordance with the Commissioner for Public Appointments' code of Practice on appointments for Public Bodies. He has not declared any political activity.
Published 17 July 2015