NOMS chief named 'boss of the year'
A National Offender Management Service (NOMS) staff member has been named Boss of the Year in a national competition in the Guardian newspaper.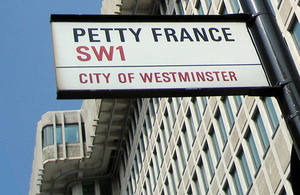 Gill Mortlock, director of offender management, was chosen out of hundreds of entries that came in from across the UK, representing both the public and private sectors.
She was nominated by her administration officer KT Elliott, with whom she has worked for two years.
KT says: 'Gill is always even-tempered with everyone and pours a lot of energy into getting people involved in all areas of the business.'
She also explains that Gill's inclusive style and her ability to 'really listen' are what make her stand out as a manager.
'Gill listens and genuinely consults,' says KT. 'She remembers previous conversations, indicating that she really has registered details and reflected on them.'
An inspiration
With more than 40 years' experience in the public sector, and now responsible for 11 prisons and three probation trusts, Gill manages over 4,000 staff, all working towards offender rehabilitation, with her region achieving the best results nationally for reoffending rates.
Her top tip for managers, based on this wealth of experience, is 'really, really listen to people and involve them in the solution.'
'It may sound cheesy,' she adds, 'but my Dad was my inspiration. He was always there to really listen to me, to see the positive in any situation and to remind me that you have to stay true to your personal values.'
Published 23 March 2011