Press release
No room for complacency as councils prosecute more fly-tippers
Councils across England brought nearly 2,500 prosecutions for fly-tipping in 2009-10, an increase of more than twenty per cent on the previous 12 months.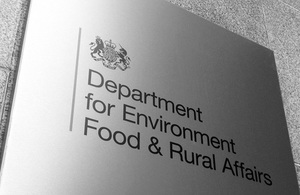 Local authorities also issued 116,500 warning letters and 2,100 formal cautions to those suspected of illegally dumping waste.
Although the vast majority of prosecutions (97 per cent) were successful, the estimated cost to councils of clearing fly-tipping mounted to £45.8 million last year.
Environment Minister Lord Henley said:
"We're encouraged by the efforts being made by local authorities to tackle fly-tipping but there is no room for complacency.
"A total of nearly 947,000 incidents is unacceptable by any standards and fly-tipping is clearly still a significant problem.  We must all work together to stamp out this continuing blight on our neighbourhoods."
The statistics also show that the number of reported incidents of fly-tipping in 2009-10 decreased by 18.7 per cent compared to the previous year - but much of this drop is due to changes in the way figures are reported by a small number of local authorities.
Defra will continue to work with the Environment Agency and local authorities to prevent illegal waste activity through a combination of education, prevention and enforcement.
Notes
The full fly-tipping statistics.
Fly-tipping is the term used to describe waste illegally deposited on land (section 33 of the Environment Protection Act 1990).
The "Flycapture" database was set up in 2004 allowing local authorities to record the number of fly-tipping incidents on public land within their area each month, along with the enforcement actions taken.  The database is managed by the Environment Agency on behalf of Defra.  Waste fly-tipped on private land is the responsibility of the landowner to clear and is not included in the figures published today.
Published 9 September 2010