No fresh inquest into death of Dr David Kelly
After extensive consideration, the Attorney General will not refer the death of Iraq weapons inspector Dr David Kelly for a fresh inquest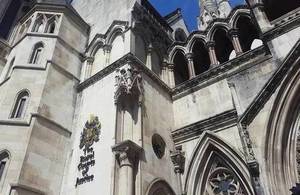 In a statement to Parliament, the Attorney General, Dominic Grieve QC MP, explained that he did not intend to apply to the High Court for an inquest into the death of Dr David Kelly in 2003.
Before his appointment last May, the Attorney recognised that a number of people expressed concerns about how the Hutton Inquiry concluded that Dr Kelly took his own life. Since then he has received a great deal of correspondence, some requesting that, in accordance with the provisions of the Coroners Act 1988 he consider whether an application for a new inquest should be made to the High Court.
He sought independent expert evidence from a consultant forensic pathologist and a professor of toxicology, received the considered views of Lord Hutton and others in response to the allegations made against them, and was assisted by officers of Thames Valley Police. Reports from the pathologist, professor of toxicology and Thames Valley Police have been published along with a considered response to the individual points raised.
The Attorney General said:
I have concluded that the evidence that Dr Kelly took his own life is overwhelmingly strong. There is nothing I have seen that supports any allegation that Dr Kelly was murdered or that his death was the subject of any kind of conspiracy or cover-up.
This was an exceptional set of circumstances, as my office does not have an investigative function. It has taken some time, but I have given this matter extremely detailed consideration. It would have served no purpose passing the matter on to the High Court when the tests for a new Inquest are simply not met.
I offer to the Kelly family my sincere sympathy, not simply for their loss, great though that may be, but for having to bear that loss in the glare of publicity over such a long period of time.
All the supporting documents for this decision can be found on the AGO pages at the National Archives
Published 9 June 2011