No Council Tax revaluation tax rises pledge ministers
Local taxpayers have been reassured that there will be no unexpected wave of council tax revaluation hikes in the next five years. Communities…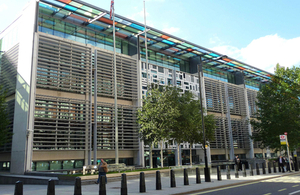 Local taxpayers have been reassured that there will be no unexpected wave of council tax revaluation hikes in the next five years.
Communities and Local Government Secretary Eric Pickles and Treasury Minister David Gauke have today confirmed that the Government will not carry out a council tax revaluation in England during the lifetime of this Parliament.
In addition an independent Data Protection Audit of the Valuation Office Agency's (VOA) council tax database is to be carried out to make sure people's privacy is protected when the Agency assesses properties and stores data. This takes forward the Coalition's desire to defend civil liberties, restore the rights of individuals and in keeping with Britain's tradition of freedom and fairness.
There are also plans for a broader local government resource review that will examine the way councils are funded, to provide greater financial freedoms and decrease dependency on Whitehall funding, which has previously pushed up council tax in many local authorities due to so-called 'gearing' effects.
Eric Pickles, Secretary of State for Communities and Local Government, said:
We are today confirming that there will be no council tax revaluation which could have pushed up taxes on people's homes. The new Government will protect the privacy of law-abiding citizens and halt state inspectors from unnecessary intrusion.

We are standing up for people who have pride in their home, and calling time on the surveillance state.

Hefty council tax bills are a constant financial worry for many people. Today we are setting their minds at ease, and protecting the interests of the less well-off in particular.
David Gauke, Exchequer Secretary to the Treasury, added:
We want fairness in the tax system. Therefore this Government will avoid an unnecessary and expensive revaluation that could lead to increased council tax bills. The Government is committed to being open about its work while protecting the privacy of personal data. To provide assurance on this point, the Valuation Office Agency is commissioning an independent Data Protection Audit of the council tax database.
Notes to editors
1. The Coalition Government is committed to undertaking a full review of local government finance. This is due to report in summer 2012.
2. On 23 September the Valuation Office Agency (VOA) published statistics on the numbers of dwellings by Council Tax band and by property attributes, as at 13 September 2010. Data was published for all billing authorities in England and Wales, including national and regional totals.
3. The publication of properties by band is the next release of an ongoing annual series showing the number of properties in each council tax band. This information was previously published by Communities and Local Government. The count of properties with each of the VOA's Property Attribute Codes is newly published as an official statistic. These statistics are published in compliance with the code of practice for official statistics set out in the Statistics and Registration Act 2007.
4. While the VOA aims to be as open and transparent as possible about the data it holds and continually looks for ways to improve the understanding of its work, it takes the protection of personal data extremely seriously. As an Executive Agency of HM Revenue & Customs, the VOA is subject to taxpayer confidentiality laws.
Twitter
Keep up to date with the Department by following us on Twitter (external link).
Media enquiries
Visit our newsroom contacts page for media enquiry contact details.
Published 24 September 2010