News story
Nissan to build new car in Sunderland
Vince Cable welcomes Nissan's new investment in the UK, supported by Government funding.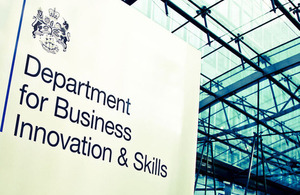 Jobs for more than 2,000 people are expected to be created by Nissan at its Sunderland plant and among suppliers by a new compact car project, the Invitation, costing £125m.
Vince Cable visited the Geneva Motor Show where he saw Nissan unveil the Invitation concept car. Production is due to start in 2013 at an initial rate of 100,000 a year.
Nissan has been helped with a £9.3m offer of funding from the Government's £2.4bn Regional Growth Fund.
Other offers from the fund for motor vehicle investment projects have been made to Lotus, Jaguar Land Rover, Pirelli Tyres, Getrag Ford, Aston Martin, General Motors, and two Nissan suppliers, Unipres UK and Vantec Europe.
Business Secretary Vince Cable said:
"It is fantastic news that Nissan will be building the new model in Sunderland. The investment is a boost for jobs at Nissan's plant as well as the wider supply chain.
"This latest announcement highlights the UK's track record of attracting inward investment. Global vehicle manufacturers are beating a path to the UK's door. They recognise that the Government values the automotive sector.
"Nissan was able to push on with developing this latest project thanks to the Regional Growth Fund offer."
The third round of the RGF is now open to bids, and will aim to allocate a further £1 billion to projects from across England that will create new jobs, are based in areas dependent on the public sector and are supported by private investment.
The deadline for bids is 13 June 2012, and anyone interested in submitting one is invited to attend a road show for more information and advice.
Links
Published 6 March 2012