Nine Argentinians have been awarded Chevening Scholarships
The UK Government's scholarship programme covers all of the student's expenses, including travel, health insurance and accommodation.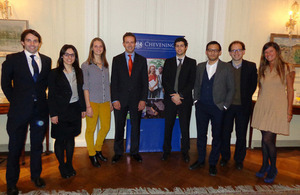 Like every year, the FCO has awarded nine Chevening Scholarships that will enable young Argentine professionals to enter a one-year Master's degree programme at the university of their choice in the UK.
Richard Barlow, Chargé d'Affaires at the British Embassy, welcomed the new scholars at the British Ambassador's Residence on 15 August to wish them a safe trip and give them the opportunity to ask questions and share views and tips with other young Argentine leaders who were awarded Chevening scholarships in previous years.
Chevening scholarships are awarded every year to young leaders in more than 116 countries who have the potential to become future key players in a wide range of areas including politics, economics, civil society and the media. The Chevening Programme gives them the chance to enjoy a world-class international experience in the UK, as well as access to a global network of young leaders.
The Chevening Programme has been offered in Argentina since 1990 and has already supported 400 scholars from this country. Scholarships cover not only the post-graduate course at the chosen university but also subsistence costs, including return air fares, accommodation and health insurance.
The next call for applications, for the 2014-2015 scholarships, begins on 1 September and ends on 15 November 2013. All the information on how to apply will be published on the Chevening Scholarships website: www.chevening.org.
Published 16 August 2013