Nimrod R1 retires from service
After 37 years of operational service the Nimrod R1 was retired from service last month.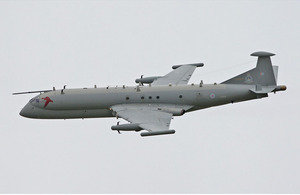 Following the retirement of the Nimrod MR2 fleet last year, the final two Nimrods, in service with 51 Squadron, bowed out to a 700-strong audience of serving and retired RAF personnel at a ceremony held at RAF Waddington.
Leading the thanks and tributes to 51 Squadron and the R1 supporting elements, the Chief of the Air Staff, Air Chief Marshal Sir Stephen Dalton, said:
Today is a day of celebration. There is no question this aircraft has given us the ability to do things that would be very much more difficult, and could have cost us more, if we hadn't had it.
The ceremony saw parades by two flights of Nimrod R Force elements, including personnel from 51 Squadron, 54(R) Squadron, 56(R) Squadron, Electronic Reconnaissance Operations Support Squadron and the Electronic Warfare and Avionics Detachment. They were accompanied by the Band of the Royal Air Force Regiment.
Flying for the last time, Nimrod R1 Number XV249, flown by Flight Lieutenant Mike Chatterton, made two spectacular flypasts directly over the parade, the second concluding with a roaring climb before disappearing into the clouds.
Reflecting on flying the Nimrod for the last time he said:
It's a great honour to fly the Nimrod R1 today. When you're flying you're too busy to take stock of how significant a day this is. Only after I had landed did it really hit home.
The Nimrod R1 flew over Afghanistan in support of Operation HERRICK for ten years, making it one of 51 Squadron's longest operational commitments. Due for retirement at the end March 2011, the Nimrod R1 was given a three-month reprieve to enable participation in Operation ELLAMY, supporting the NATO mission over Libya.
The replacement for the Nimrod R1 will be the Rivet Joint aircraft, due into service with the RAF in 2014. For now, RAF crews from 51 Squadron are already co-manning US Rivet Joint aircraft in missions over Libya and Afghanistan, continuing their support to operations.
Watching the Nimrod's final flight, RAF Waddington Station Commander, Group Captain Chris Jones, said:
There's a touch of sadness, but a sense of great pride. The Nimrod has delivered a fantastic service to the RAF and at RAF Waddington since 1995. And it's a fitting way to say farewell.
Published 7 July 2011