Night scramble for Navy Search and Rescue crew
A Search and Rescue crew from Royal Naval Air Station Culdrose in Cornwall conducted a daring rescue of an injured fisherman earlier this week.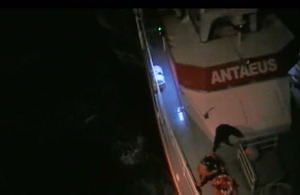 The members of 771 Naval Air Squadron (NAS) were called out in the middle of the night to rescue the injured man stuck in French waters, in deteriorating weather conditions, more than 100 miles (160km) away.
With the weather worsening off the Brittany coast, the duty crew from 771 NAS safely winched the sailor from the forecastle of the fishing vessel Antaeus in the early morning hours of 10 May 2012 - the crew's fourth rescue in a matter of hours.
Lieutenant Commander Martin 'Florry' Ford, aircraft commander and a fully-trained paramedic, said:
The rescue took place in waters that the French Search and Rescue service look after, but because of the weather in France, we were the only available unit to help.
The bad weather here in Culdrose was getting worse and cloud was very low but we were able to do the job, and save the injured man, even though it was deep within our reach.
The crew travelled out to the fishing boat that was requesting help and Lt Cdr Ford was winched down from the 771 NAS red and grey Sea King helicopter with a stretcher to attend to the casualty.
After providing the necessary treatment, they recovered him back to Derriford Hospital. Lt Cdr Ford continued:
We delivered the casualty to Derriford and were back at Culdrose for just after 3am where we continued to maintain our 24-hour standby. We had already been scrambled three times previously in the day, so it was a very busy day for 771 Squadron.
On returning, the weather got so bad that the aircraft had to conduct a full radar approach, which requires the crew to navigate their way by using their onboard navigational instruments. On arrival at Culdrose her dedicated engineers quickly serviced the aircraft so that she was ready to deploy for any other rescues.
The crew who carried out the rescue were Flight Lieutenant John Owens - first pilot; Lieutenant Ali Andrews - second pilot; Lt Cdr Martin Ford - aircraft commander; Lt Cdr Andy Drodge - radar operator; and Corporal Justin Morgan - Royal Marines aircrewman and winch operator.
As always, the crews and engineers of 771 NAS stand ready 24-hours-a-day to respond to each and every emergency.
Published 11 May 2012