Nigeria: Ibori jailed in fight against corruption
DFID is leading the process to return the millions of pounds stolen to the country's poorest people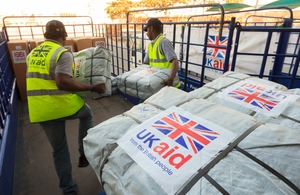 The Department for International Development is leading the process to return the millions of pounds James Ibori stole back to the country's poorest people. 
Today, former Nigerian politician, James Ibori, 49, began a 13 year jail term. He admitted stealing from the very people he was elected to serve after a ground-breaking investigation by the Metropolitan Police Service's Proceeds of Corruption unit (POCU).
Uniquely among aid agencies, the Department for International Development funds the specialist team.
This is part of the Coalition Government's commitment to tackle corruption in the developing world involving British citizens, companies or financial institutions.
International Development Secretary Andrew Mitchell said:
James Ibori's sentence sends a strong and important message to those who seek to use Britain as a refuge for their crimes.

Corruption is a cancer in developing countries and the Coalition Government has a zero tolerance approach to it.

We are committed to rooting out corruption where ever it is undermining development, and will help bring its perpetrators like Ibori to justice and return stolen funds to help the world's poorest.
Ibori, former governor of Nigeria's Delta State, lived a life of luxury after he embezzled what the Met estimates to be $250 million (approximately £157 million) of Nigerian public funds - equal to £38 from every person living in the state at the time of his crimes.
No British aid was compromised, but his crimes have had a devastating effect on his fellow Nigerians as the money was meant to improve the lives of some of the world's poorest people.
The money Ibori and his co-conspirators stole during his eight years as governor could have provided books, uniforms and education for 400,000 girls or hand pumps to provide clean water for 450,000 households.
Corruption deters investment and private sector growth, preventing poor people from working and trading themselves out of poverty.
DFID also funds the work of the City of London Police's Overseas Anti-Corruption Unit, which investigates allegations of UK citizens and companies being involved in overseas corruption, especially foreign bribery.
Published 17 April 2012