News story
Nigeria explosions - travel advice update
Following multiple explosions in the northern city of Kano on 20 January we have updated our travel advice for British Nationals.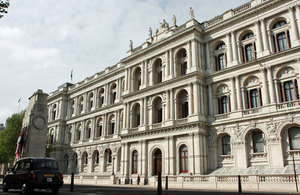 On 20 January, a series of co-ordinated terrorist attacks took place in Kano targeting police and other government buildings. Reliable reports indicate that more than 100 people were killed. The Islamist group, Boko Haram, has claimed responsibility. As at 1200 hours (local) on 22 January the city is calm.
The Nigerian authorities have lifted the post-attack curfew in Kano city during daylight hours on Sunday 22 January, but have announced the curfew will be in force from 1900 hours on Sunday 22 January until 0600 hours on Monday 23 January.
In the light of Friday's attacks, we are currently advising against all but essential travel to Kano city and for those in Kano city to remain vigilant and to exercise caution. DFID and British Council have limited their operations in Kano pending further assessment of the situation.
A number of curfews are being enforced across Nigeria. British nationals are urged to comply with all curfews.
For the latest information please keep monitoring our Nigeria travel advice.
Published 22 January 2012