Nick Clegg welcomes announcement of 3,000 new UK jobs by InterContinental Hotels Group
Deputy Prime Minister Nick Clegg today welcomed the announcement of 3,000 new UK jobs by the InterContinental Hotels Group (IHG).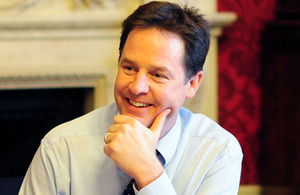 IHG is creating nearly 3,000 new jobs across its 275 UK hotels over the next three years, including over 1,100 new jobs this year. IHG also announced the launch of its newest hospitality training Academy in London.
Speaking at the launch of the IHG Academy programme this morning, The Deputy Prime Minister said:
It's fantastic to see IHG growing its UK business and creating 3,000 new jobs. The British service sector is world-beating, and will soon welcome millions of guests to enjoy London 2012. But reaching this gold standard needs investment in people. IHG are leading the way in their sector through a tailored academy programme. It's an added investment that means young people can learn the skills for the industry in a local college, and then start their career in a local hotel. This shows real investment in our future workforce, is a huge boost for jobs across the country, but crucially will see local people benefit from training and work.
Read the full press release on the InterContinental Hotels Group website. 
Published 22 February 2012