Press release
Nick Clegg statement on GDP figures: October 2014
The Deputy Prime Minister responds to statistics on GDP released today (24 October 2014) by the Office for National Statistics.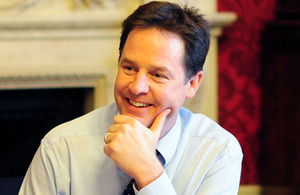 The Office for National Statistics (ONS) have released new figures on UK GDP for the third quarter of 2014.
Commenting on the new data, the Deputy Prime Minister said:
After many difficult decisions and with the hard work of people up and down the country, the British economy is doing well.

Our economy is now larger than it was before the crash of 2008; over a million more private sector jobs have been created since 2010; and nearly 3 million people on low wages no longer pay any income tax on what they earn.

As the economy continues to grow stronger, we are making sure that it does so in a society that is fairer.
Published 24 October 2014