News story
Nick Clegg statement on GDP figures
The Deputy Prime Minister gave a statement on the latest GDP figures, which show that both employment and growth have increased.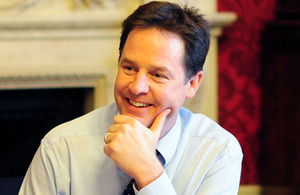 Deputy Prime Minister Nick Clegg said:
Today's growth figures are another welcome sign that our economy is moving in the right direction – employment is up, growth is up.

Skilled British workers in areas like our thriving automotive industry and our world class services sector are helping to rebalance the economy, building a fairer society for this generation and the next.

This coalition government has set Britain on the right course by repairing the country's finances and helping to create more than 1.7 million new private sector jobs since the election.
Published 29 April 2014