News story
Nick Clegg statement on employment statistics
The Deputy Prime Minister Nick Clegg gave a statement on the employment statistics released today (16 July 2014).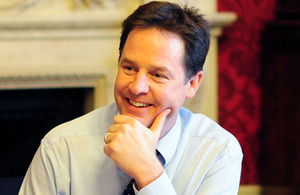 Figures released today by the Office for National Statistics (ONS) show that nearly a million more people are in work compared to a year ago, and the employment rate has never been higher.
Deputy Prime Minister Nick Clegg said:
More people up and down the country are finding jobs as we build a stronger, more balanced economy.

And today we have the highest employment rate on record, which shows that this government has created the right conditions for growth.

We have made the tough decisions to reduce our deficit; lifting around 3 million people out of tax so they keep more of what they earn; healing the scar of the north south divide through the Regional Growth Fund and giving young people a helping hand by boosting apprenticeships.
Published 16 July 2014