News story
Nick Clegg statement on employment figures: September 2014
Nick Clegg made a statement on employment statistics released on 17 September 2014, covering the period May to July 2014.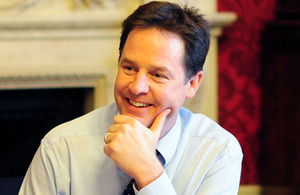 Figures published today (17 September 2014) by the Office for National Statistics (ONS) show a record drop in unemployment for May to July 2014.
Nick Clegg said:
I'm delighted by today's employment figures which show that we are seeing more women going in to work, and that that youth unemployment has dropped by the biggest amount in many many years.

There's a long way to go until this recovery is fully felt. That's why I've been at the forefront of taking people on low pay out of income tax.

The fact that we have so many young people finally having the opportunity to get their feet on the first rung of the jobs ladder is really good news.
Visit our interactive map to find out more about your local economy and see what the new employment statistics mean for your region.
Published 17 September 2014