Nick Clegg statement on employment figures: December 2014
The Deputy PM made a statement on employment statistics released on 17 December 2014, covering the period August to October 2014.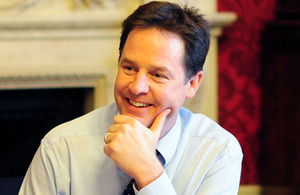 The Office for National Statistics (ONS) released employment statistics on 17 December 2014. The final 2014 employment figures show an all-time record number of people in jobs. Employment rose 115,000 this quarter and 588,000 on the year, to 30.8 million in work, the highest level on record. Unemployment fell 63,000 this quarter and 455,000 on the year to 1.96 million.
The Deputy Prime Minister​ Nick Clegg ​said:
Today's figures show that our economy is still getting stronger, with this new record of 30.8 million people in jobs.

This​ ​coalition government has worked tirelessly to balance the books quickly, but fairly. This has meant creating jobs outside of London in areas of the country that once relied too heavily on the public sector. It has also meant a relentless push in coalition to support less well off families with things like free childcare and a cash boost to help kids catch up at school.

When considered together with the fact we've encouraged 2 million young people to earn whilst they learn in apprenticeships, these figures show we're on track for a stronger economy in a fairer society.
Published 17 December 2014