Press release
Nick Clegg responds to labour market statistics: January 2015
The Deputy Prime Minister has made a statement on employment figures released today that show an increase in the number of people in work.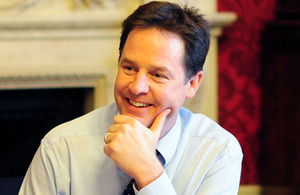 The latest​ ​employment​ ​figures show that the number of people in work rose​ 37,000 this quarter and by​ 512,000 on the year, bringing total employment to a new record of 30.8​ million​.
The unemployment rate has fallen below 6% for the first time since 2008, down 1.3%​ ​percentage points​ ​on the year to 5.8%. There are now 1.91​ ​million​ ​people unemployed.
The female employment rate is also at a​ ​new record high – reaching 68.2%, and there are a record 14.4​ million​ women in work.
Job vacancies have risen by 127,000 to hit a 14-year record high. There are around 700,000 job opportunities across the country​. ​Figures from the Office for National Statistics show that regular pay was up 1.8% and private sector pay was up 2.2%​.​
The Deputy Prime Minister​ Nick Clegg ​said:
Today's job figures are further proof that the economy is growing stronger. With a new record of 30.8 million people in jobs; more women in work than ever before; wages rising; and prices low due to inflation, it is encouraging to see the recovery is helping hardworking families up and down the country.

The coalition government is building a stronger economy – shifting away from an over-reliance on the city of London and creating thousands of jobs for people across Britain.
Published 21 January 2015