Nick Clegg publishes meetings data
Details published today include a list of all the senior media figures that the Deputy Prime Minister has met since the General Election.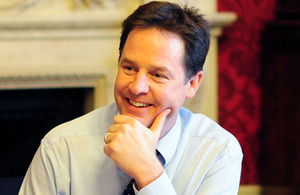 The list includes proprietors, senior executives and editors of media organisations, in line with the advice given to the Deputy Prime Minister by the Cabinet Secretary.
Also published today is the proposed addendum to the Ministerial Code, as advised by the Cabinet Secretary and agreed by the Prime Minister.
It states:
The Government will be open about its links with the media.  All meetings with newspaper and other media proprietors, editors and senior executives will be published quarterly regardless of the purpose of the meeting.
Published 15 July 2011