Nick Clegg outlines plans for an environmentally and economically sustainable future
Deputy Prime Minister Nick Clegg has set out the Coalition's plans for a new environmentally and economically sustainable economy.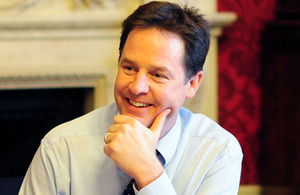 Mr Clegg says the new economic model would be built on enterprise and investment, instead of unsustainable debt.
In a speech during a visit to a Carbon Capture and Storage (CCS) plant in Rotherham the Deputy PM said that the new economy would spread growth across all corners of the UK, rather than depending on certain regions and certain sectors.
Deputy Prime Minister Nick Clegg said;
We need an economy that is sustainable - environmentally sustainable, of course, but economically sustainable too. An economy built on investment, not debt; on world-class infrastructure and world-class skills; and on regional balance and diversity.
The Deputy Prime Minister said there were four steps for the country to take.
The UK must:
Wean itself off debt-financed growth, and onto investment-led prosperity;
Invest in the 'hard' infrastructure that underpins growth, such as transport;
Cultivate the 'soft' infrastructure made up of knowledge, skills and education that businesses need; and
Balance regions and sectors, instead of putting all the economic eggs in one basket.
The Deputy Prime Minister said that the coalition's earlier £1bn commitment to green technologies, such as CCS, could result in export opportunities of up to £6.5bn a year by 2030, and up to 100,000 new highly skilled jobs, as well as massively cutting carbon emissions.
Nick Clegg added:
We are determined to set our economy on a new course; to fuel growth in a new, more balanced way; and to replace the old, debt-ridden economy with a new one, based on investment, export and sustainability.
Read the speech here.
Published 4 February 2011