News story
Nick Clegg message for Remembrance Day 2012
The Deputy Prime Minister speaks of wearing "our poppies with gratitude and with pride" in a video message to mark Remembrance Day.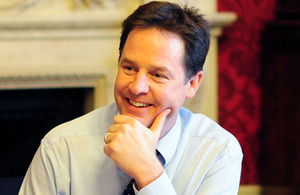 Nick Clegg message for Remembrance Day 2012
The full transcript is below.
There are lots of reasons to be proud to be British - but our Armed Forces have to be the greatest reminder of the things this nation stands for.
Courageous.
Dedicated.
Always prepared to stand our ground for the things we believe in.
Willing and able to step in and help others at a moment's notice.
This year it was only because our troops saved the day that we could wow the world with a safe and successful Olympic and Paralympic Games.
It's only because of their sacrifices that we can work with others to bring stability to Afghanistan.
And it's because of their efforts, in countries across the world, day in day out, that liberty is safeguarded and lives are saved.
So I want to say a huge thank you to all who serve, today on Remembrance Day.
And I want to say thank you to their families too - who probably don't hear it enough; but who we owe a great deal too.
Today we honour our Armed Forces; we remember those who have made the ultimate sacrifice; we send our thoughts and prayers to the loved ones they have left behind.
Today we wear our poppies with gratitude and with pride.
Published 9 November 2012