News story
Nick Clegg: message for Pride 2014
Watch a video message by the Deputy Prime Minister to mark the London Pride celebrations this weekend.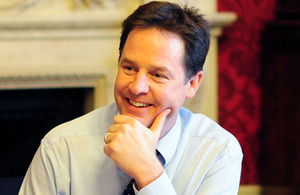 Nick Clegg video message for Pride
Video transcript
One weekend a year, the heart of this city beats louder, stronger and prouder, as thousands of LGBT people take to the streets - along with straight people too - to celebrate their freedom to be who they are. One of the things that makes me proudest, as Deputy Prime Minister, was passing the Equal Marriage Act.

It's what makes my party proud too. We are determined to make Britain more open and more modern - a place where we celebrate love wherever we find it. So, for everyone who campaigned so hard for equal marriage, we did it. Feel good about that this weekend, and as you take part in one of the biggest and best Prides in the world, let's send a message to all those people around the globe who are still fighting for greater equality: Britain and London stands with you.
Published 27 June 2014