Nick Clegg meets Rick Stein apprentices in Padstow
Nick Clegg visited The Seafood Restaurant to meet young people who have been given the opportunity to start their careers in the restaurant.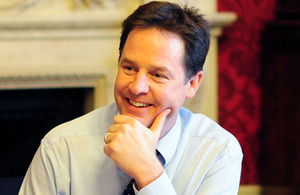 The Seafood Restaurant supports the Deputy Prime Minister's £1 billion Youth Contract initiative to get all young people earning or learning and offers a number of training initiatives for its employees. 
 
The company has signed up to the Youth Contract as a whole, and is set to use the wage incentive part of the Government's policy to take on inexperienced unemployed young people, and is encouraging other restaurateurs to do the same.
Published 18 May 2012