Press release
Nick Clegg meeting with French Prime Minister Valls
Deputy Prime Minister Nick Clegg met French PM Manuel Valls and discussed cooperation between the UK and France on a wide range of issues.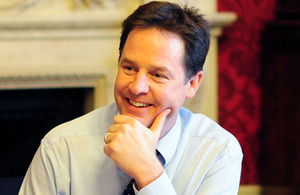 The Deputy Prime Minister, Nick Clegg, today met with the French Prime Minister, Manuel Valls.
They discussed a wide range of issues including building on the close UK-France cooperation in tackling the threat from Iraq and Syria and international terrorism, growth, jobs, the EU budget and the importance of delivering a new global climate deal next year at next year's UN Climate Change Conference, hosted in Paris.
Following the meeting, the Deputy Prime Minister said:
I of course raised the issue of the budgetary adjustment that has been asked of the United Kingdom and explained that we are wishing to apply some technical scrutiny over a period of time. We can't and won't pay that amount of money before December the first, but of course there is an adjustment process, which must be respected and we wish to work on that in a deliberate and considered fashion in the coming period.
Published 30 October 2014