News story
Nick Clegg marks 60 years of the Refugee Council
The Deputy Prime Minister reflects on the 60 years since the formation of the Refugee Council.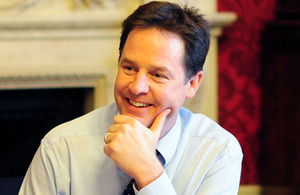 Deputy Prime Minister Nick Clegg has given a speech to mark the 60th anniversary of the formation of the Refugee Council in the UK and the United Nations Convention Relating to the Status of Refugees.
Addressing the Council, Mr Clegg said that the UN Convention on Refugees marked a turning point in the international community's attitude towards the plight of displaced peoples.
Reflecting on the 60 years since the formation of the Refugee Council, The Deputy PM said that thanks to the work of such organisations millions of lives have been saved.
Focusing on the issue of asylum seekers in Britain, Mr Clegg said:
Of course, Britain, like all countries, has a duty to examine asylum claims and refuse those which are not justified.

But you know better than anyone that the refugees who get through all the checks and are granted refugee status are invariably honest, hardworking men and women who go on to contribute to their communities and enrich our national tapestry.

It is precisely our openness to their contribution, and to those in need of our help, that makes us British.
Mr Clegg said that through the UK Gateway protection programme the UK is providing a safe route to some of the world's most vulnerable refugees.
Mr Clegg concluded by saying that no one should ever be forced from their home.
But when it happens they must know that nations like ours will provide the safety and security all people deserve.
Published 10 May 2011