News story
NIB quarterly leadership summit: watch livestream
Jeremy Hunt, George Freeman and Martha Lane-Fox will address National Information Board leadership summit on Tuesday 8 December.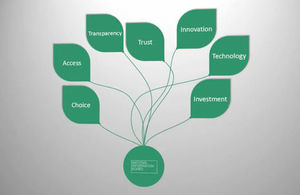 The leadership summit will enable members to collectively review delivery priorities for Personalised Health and Care 2020 following the outcome of the spending review.
Much work has been undertaken since the last summit to ensure alignment with delivery of the priorities of the Five Year Forward View. Health Secretary Jeremy Hunt and Life Sciences Minister George Freeman will provide keynote addresses as part of this discussion.
In addition, Martha Lane Fox – who has been commissioned by the Health Secretary to work with NIB on proposals to support digital access to health information and services for all citizens – will outline her priorities and lead a discussion on potential strategies for widening digital participation.
You can also send questions for the NIB leadership to answer in the final part of the meeting.
Published 7 December 2015