News story
NI update for Vatican's Foreign Minister
Vatican's Foreign Minister on three-day visit to London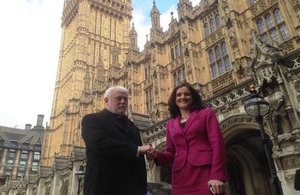 The Holy See's Secretary for Relations with States, Archbishop Paul Gallagher, was welcomed to the Palace of Westminster by the Secretary of State today. Theresa Villiers updated him on the progress of the Stormont House and Fresh Start agreements, and highlighted ongoing efforts to find a way forward to address the legacy of the past in Northern Ireland.
They also discussed the government's commitment, through £500 million additional borrowing, to support shared future projects over the next 10 years, including integrated education and shared housing.
Speaking after the visit, the Secretary of State said:
It was a great pleasure to meet Archbishop Gallagher today and to hear more about the global priorities of the Holy See. I was able to update him on our work to deliver a brighter future for Northern Ireland, through the Stormont House and Fresh Start agreements. We also discussed progress towards addressing the legacy of Northern Ireland's past.
Published 2 March 2016