News story
NI stronger, safer and better off in a reformed EU
Parliamentary Under Secretary of State Ben Wallace was speaking as the Exporting is GREAT mobile hub continued its roadshow through NI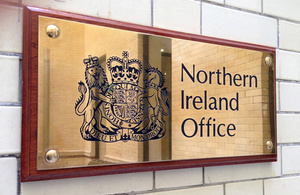 The Minister visited the hub during its stop in Derry-Londonderry on 18 May where he met local businesses and the experts on board who provide immediate advice to firms wanting to expand their business by reaching overseas markets.
The Minister set out his strong belief that Northern Ireland, and the UK as a whole, is stronger, safer and better off in a reformed European Union:
It is great to see first-hand how Northern Ireland businesses can tap into new markets and increase our exports. Around 60 per cent of all Northern Ireland exports go to the European Union and there is no doubt that easy, tariff-free access to the Single Market is critical for the continued success of Northern Ireland exports.
The mainstream view from business leaders is that walking away from the largest economic market in the world would be putting the future economic prosperity of Northern Ireland at risk.
Mr Wallace also visited the offices of Tourism Northern Ireland earlier this week to hear first-hand about the challenges and opportunities facing the tourism industry in Northern Ireland.
The Minister added:
Northern Ireland remains a fantastic destination for tourists from all over the world but it is important to remember that seven of the top ten countries of origin of visitors to Northern Ireland are countries within the European Union.
I know that there is great concern, from hoteliers to flight operators, that a vote to leave would bring about restrictions to travel that would have a significant adverse effect on the Northern Ireland tourism industry.
The deadline for registering to vote in this important referendum is 7 June. See www.aboutmyvote.co.uk for further details on how to register.
Key facts:
The EU remains Northern Ireland's largest export market, with around 60 per cent (£3.6 billion) of exports going to countries within the EU
Over the period 2004-2014, the value of Northern Ireland's exports to the EU has increased by 28 per cent, whilst the value of exports to non-EU countries increased by 25 per cent
Last year, food and drink exports from Northern Ireland were worth £1.3 billion, accounting for a fifth of all NI exports. 83% of those exports (£1.1 billion) went to the EU
The Chair of the Confederation of British Industry in Northern Ireland has said: "Every business survey has demonstrated support for remaining within the EU. Quite simply, this is the mainstream business view."
The UK Government Exporting is GREAT campaign has been organised by UK Trade & Investment in partnership with Invest Northern Ireland. The 32-tonne Export Hub lorry will visit five locations across Northern Ireland including Banbridge, Derry-Londonderry, Antrim and Enniskillen. It will host a series of seminars offering export advice through talks, workshops and one-to-one meetings.
Published 19 May 2016