News story
NFA announces new Chief Executive
Dr Bernard Herdan CB is stepping down from his role as Chief Executive of the National Fraud Authority.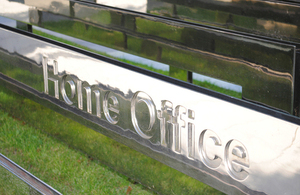 Stephen is currently the NFA's Director of Policy and Strategy.  He began his civil service career in HM Treasury, moving to the Home Office in 1993 where his work included redesigning the organisation structure and programme governance for security planning for the Olympic and Paralympic Games.  He has also been Director of Policy at the Identity and Passport Service (IPS) and spent three years as Private Secretary to the Home Secretary covering criminal policy and the prison and probation services.
At the NFA, Stephen has been responsible for leading policy work on organised crime, cyber crime and the future of the enforcement landscape as well as initiatives to disrupt and punish fraudsters.  He has been central to building the relationship between NFA and City of London Police, the national lead force for fraud.
In 2010, Stephen led the cross-Government team reporting to the independent chair of the Public Sector Fraud Taskforce, identifying and making recommendations on ways to reduce fraud against the public sector, and laying the foundation for the work of the cross government Public Sector Taskforce for which the NFA now provides secretariat and support.  He is also well known to the private sector, most recently working alongside the insurance industry to develop their new dedicated police enforcement unit and speaking at numerous conferences and events.
Dr Herdan is leaving at the end of his contract to return to the portfolio career he was pursuing before joining the NFA.  His distinguished 21 year career in the civil service, includes time spent as Chief Executive at the Driving Standards Agency, the Criminal Records Bureau and also at the UK Passport Service.  He was also interim Chief Executive of the Security Industry Authority.  From September, he will be undertaking trustee and non-executive roles in the voluntary and public sectors.
Dr Bernard Herdan CB said: "I was invited to become the NFA's first Chief Executive when the organisation was in its infancy and the first national fraud strategy had just been published. I am proud to have led the NFA from those early beginnings to a fully fledged organisation with numerous successes under our belt and a sustainable long term future.  I have worked with Stephen for many years both at the NFA and IPS and know the NFA will continue to prosper under his guidance".
Stephen Harrison said: "I am honoured and delighted to be taking forward the crucial work of the NFA, leading the fight against fraud in this country. Over the last two years we have established ourselves as an important part of the UK's counter fraud community.  I look forward to continuing our good work to protect society from fraud and strengthening our positive working relationships with partners in public, private and voluntary sectors."
For further information, please contact NFA press office on 020 3356 1034
Published 28 July 2011