World news story
Next steps in British-Japanese nuclear cooperation
From:

Part of:

Published:

28 October 2015
The third annual UK-Japan nuclear decommissioning workshop in Tokyo brought together experts to share experience across the nuclear spectrum.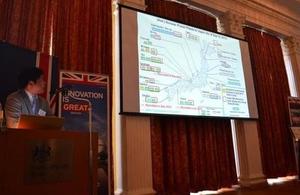 A clear message from the event was the complementary strengths of British and Japanese companies gives them the opportunity to pursue more strategic partnerships. Ideally, partnerships would see UK companies working in Japan in a similar way that Japanese companies are now working in the UK.
Presentations detailing UK decommissioning expertise and Japanese nuclear new build plans in the UK set the scene for future cooperation.
The 2 day workshop took place from 28 to 29 September 2015 at the Ambassador's Residence at the British Embassy Tokyo. Delegates then joined a visit to Fukushima Dai-Ichi nuclear power plant on the third day.
Nuclear decommissioning requirements in Japan
Tokyo Electric Power Company (TEPCO) and the Japanese government are under constant scrutiny to deliver a successful clean-up operation at Fukushima Dai-Ichi power plant. The main emerging themes from the workshop were:
contaminated water treatment is vital (containment, removal, storage and clean-up)
remote technologies to enable working in high-level radiation zones will be important
unique tools, products and technologies which do not yet exist in Japan will be sought
work with the existing large Japanese corporations to provide components or technologies (not in competition)
decommissioning opportunities will be emerging at other sites in Japan which have been scheduled to close
Challenges to consider
Traditionally, the Japanese energy market has always been very closed, with domestic manufacturers such as Hitachi, Toshiba and Mitsubishi Heavy Industries being favoured. There are signs the market is opening up to foreign competition. Japanese vendors will remain to be the difficult to beat competitors.
That is not to say there is no chance for UK companies to win business. However, you must think carefully about your approach and what you have to offer.
Here are some important points to consider when engaging with the Japanese nuclear industry:
Japanese companies such as Hitachi, Toshiba and Mitsubishi Heavy Industries have worked extremely hard to bring quick solutions to major problems - they have regained the confidence of TEPCO and the government to deliver effectively
procurement within Japanese companies is still very traditional so it's essential to build strong relationships, talk regularly and be very patient
do your research and fully understand the needs of the company you are trying to work with
you must stress your own unique advantage which they do not yet have - differentiation from competitors is vital
cost effectiveness may not necessarily be an issue concerning the work at Fukushima - TEPCO cannot afford to make further mistakes so will be willing to pay for the right technology or service
the successful recovery of Fukushima is essential for the future of the nuclear industry in Japan
Support for your business is in place
A dedicated UK Trade and Investment (UKTI) Japan team has been in place for over 4 years now to lead on nuclear dialogue with Japanese counterparts. In this time, significant work has been achieved to bring UK companies to the attention of important decision makers in the Japanese nuclear field as well as the government.
This recognition was very apparent with over 140 officials attending the recent workshop, to connect with the 24 strong British delegation who travelled to Tokyo to attend.
Next steps
Contact us if you are interested to explore the opportunities around decommissioning work in Japan, or the nuclear industry in general.
Read more about the current situation of the Japanese nuclear industry in our regular newsletters.
Understand the current 'roadmap' for decommissioning work at the Fukushima Dai-Ichi site.
Document information
Published: 28 October 2015