News story
Next phase of superfast broadband plans announced
An ambition to deliver a 'digital hub' in every community in the country is at the heart of the Government's £830 million strategy to make sure the UK has the best broadband network in Europe by 2015.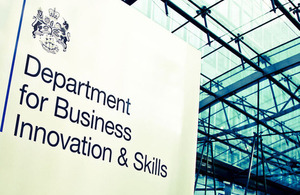 A 'digital hub' in every community to boost economic growth
Britain's Superfast Broadband Future, launched today by Secretary of State for Olympics, Culture, Media and Sport Jeremy Hunt, sets out an action plan to stimulate private investment and competition, and create an environment in which business can flourish by removing key barriers around hardware and cutting costs.
BIS Minister Ed Vaizey has been at the heart of the development of the strategy which is published today.
A reliable and secure superfast broadband network is vital to the country's economic growth, the development of high tech and creative industries, and the reform of public services.
The proposals include:
A 'digital hub' in every community by the end of this Parliament.
Investing £50 million in a second wave of projects to test how we deliver this (on top of the four pilots we are currently running on how we deliver superfast broadband to remote and rural areas). These projects will be overseen by Broadband Delivery UK within BIS.
Cutting the costs of and access to infrastructure - increasing shared access, work with house builders to make new home broadband ready, and cutting the costs of laying cable by clarifying the rules on streetworks.
Awarding spectrum for mobile services.
The publication of the strategy comes shortly after BT confirmed it is ready to contribute further funding should it win public money in any of the Government's tenders aimed at bringing fibre to hard to reach areas.
Commenting on this, Mr Hunt said:
"BT's fantastic range of measures could, on top of the Government's £830 million investment, bring superfast broadband to around 90 per cent of the population. BT has said it will contribute further funding to supplement any of the public money the company may win when we hold tenders for rolling out rural broadband. It is a great example of public funding and initiative stimulating private sector investment."
The UK is already in a relatively strong position, with one of the most competitive broadband markets in the world. More than 70 per cent of households subscribe to broadband and nearly 50 per cent of all homes have access to a superfast 50Mbps service.
The market continues to make great strides in extending and improving the country's broadband network and existing provision is largely due to market investment, with Virgin Media and BT investing rapidly in new networks. Smaller providers such as Rutland Telecom, Geo and Vtesse and community groups are finding innovative ways of delivering superfast broadband to areas where it is economically challenging to do so.
Market solutions will continue to drive forward the UK broadband network, but for those communities that cannot access a good level of connectivity, public investment will be used to support local authority broadband development plans.
Please enable JavaScript to view the comments powered by Disqus. blog comments powered by Disqus
Published 6 December 2010