News story
Next-generation bank tops £200 million capital
Potential of UK's 1st mobile-only bank recognised with stakeholders agreeing a further £83 million in equity to support innovative model.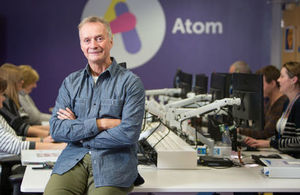 Atom Bank – the first to be designed exclusively for mobile – has agreed terms for a further £83 million in equity, taking its total capital to £219 million. It has secured further capital from existing investors including BBVA, Woodford Investment Management and Toscafund Asset Management.
The latest tranche of investment is evidence of a growing appetite for Atom's revolutionary banking model. By taking the best practices from digital businesses and applying them to the banking industry it aims to offer improved customer experiences.
In addition to raising capital, Atom is engaged in a 3-year Knowledge Transfer Partnership (KTP) with the Department of Mathematical Sciences at Durham University. The KTP will enable the business to understand the functional and financial relationship between key banking activities and help it to optimise how it manages its people, products and processes.
Durham-based Atom Bank first launched operations in April 2016. It offered 2 fixed-saver accounts and secured business lending for small and medium-sized enterprises (SMEs).
Recently the bank launched its 1st mobile mortgage product, which allows borrowers to manage everything they need via Atom's mobile app. There are further products and enhancements planned during 2017.
Anthony Thomson, Founder and Chairman of Atom Bank:
We are very pleased with the response we have had from investors. Our customers benefit from the backing of highly reputable investors who are supportive of what we are doing. This is a great vote of confidence in our growth prospects and plans for the future.

With the work we have done so far we are just beginning to see how transformational our new approach to banking can be. There is so much more to come from Atom in the coming months and years.
Published 6 March 2017