World news story
Newton Fund: launch of the Latin American Biodiversity Research Programme
The British Ambassador to Peru and the President of CONCYTEC signed a Memorandum of Understanding setting out Peru's participation in this programme.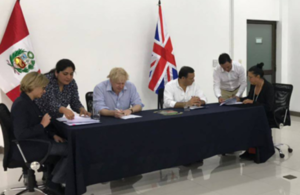 The new research collaboration between the United Kingdom, Argentina, Brazil, Chile and Peru was announced last week, during the official visit by UK Foreign Secretary Boris Johnson to Peru.
The collaboration named 'Latin American Biodiversity Programme', a £9 million funding call for research projects will contribute to the understanding of the impact of habitat changes such as deforestation and global climate change. It will monitor and model how changes in land use change biodiversity and examine how to maintain and restore biodiversity where it is under threat or has been lost.
The programme is supported by the UK government with £4.5 million through the Newton Fund in science and innovation and will be co-funded by Brazil, Argentina, Peru and Chile.
During the visit, the British Ambassador to Peru Kate Harrisson on behalf of the Natural Environmental Research Council (NERC) and Dr. Fabiola Leon-Velarde, President of Consejo Nacional de Ciencia, Tecnología e Innovación Tecnológica (CONCYTEC), the Peruvian local partner for this programme, signed a Memorandum of Understanding. It sets out Peru's participation in the Newton Fund Latin American Biodiversity Programme. The signing was witnessed by Foreign Secretary Boris Johnson.
Professor Duncan Wingham, Executive Chair of NERC said:
The environment and the economy are closely entwined in every nation. To understand the incredibly diverse habitats in South America and how to manage them in a sustainable way, the Latin American Biodiversity Programme will bring together world-class scientists and the latest techniques, from satellite imaging and genetic surveys of DNA fragments in the environment to improved computer modelling.
Dr. Leon – Velarde, President of CONCYTEC, highlighted the effort, which is oriented to build capacities and networks among researchers from the UK and different countries in the region, especially from Peru:
For one of the most megadiverse countries in the world as Peru is, it is very valuable to share experiences and generate knowledge on topics such as the understanding of habitats and species; biodiversity and sustainable livelihoods, bioeconomy; climate change; biodiversity and ecosystems; maintenance and restoration of natural capital, among others of enormous relevance.
The call for research projects from the programme is open for British researchers.
The guidelines and requirements for Peruvian researchers are on Cienciactiva's website.
Published 1 June 2018
Last updated 1 June 2018
+ show all updates
Added translation
Added translation