Newspapers guilty of contempt during Joanna Yeates murder investigation
Daily Mirror and Sun found to have published articles which could have affected a trial.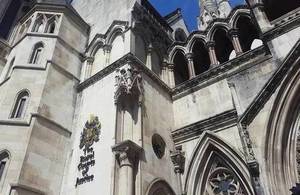 Mirror Group Newspapers Ltd and News Group Newspapers Ltd have been found guilty of contempt of court for publishing potentially prejudicial coverage of a former suspect in the Joanna Yeates murder investigation at the start of this year which had the potential to impede the course of justice.
After a prosecution brought by the Attorney General, Dominic Grieve QC MP on 5 July 2011, the Lord Chief Justice, Lord Justice Thomas and Mr Justice Owen at the High Court have today said in a judgement that these publications created 'substantial risks to the course of justice.'
The articles concerned Mr Christopher Jefferies and were published in the Daily Mirror on 31 December 2010 and 1 January 2011, and in the Sun on 1 January 2011. Even though Mr Jefferies was not charged relating to this case, this prosecution illustrates that the Strict Liability test of the Contempt of Court Act 1981 applies to all coverage from the time of arrest.
The Attorney said:
I welcome today's judgement. While there was a great amount of speculation and copy relating to Mr Jefferies across much of the media, these three pieces of newspaper coverage were a different matter. They breached the Contempt of Court Act and the Court has found that there was a risk of serious prejudice to any future trial.
This prosecution is a reminder to the press that the Contempt of Court Act applies from the time of arrest.
The essential points of the Attorney General's case, framed within the definitions of the Contempt of Court Act 1981 were that:
proceedings were active from the time Mr Jefferies had been arrested even though he was never charged
the test of a substantial risk of serious impedance or prejudice had been met
at the time, the publicity could have affected the ability to gather evidence and establish identity -  for example, if a witness who had read the coverage refused to assist with the investigation or the person's defence
It was accepted that juries are able to disregard earlier coverage and focus only on the evidence in a trial if instructed to do so by the judge, and also that there is a 'fade factor' when a long period of time elapses before a trial and jurors do not recall press coverage in any detail. However, the Attorney argued that, notwithstanding those factors, these articles had the potential to interfere with the course of justice.
Published 29 July 2011