News story
News from our partners
BIS is supported by a network of organisations that help to deliver the Department's priorities.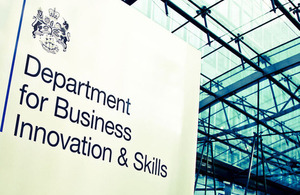 These range from executive agencies, to Research Council and public corporations.
You can read more about the latest news from our partners below:
Landmark research to combat viruses
Landmark research from the Medical Research Council has discovered that antibodies can fight viruses from within infected cells - a finding which transforms the previous scientific understanding of our immunity to viral diseases like the common cold. The discovery could lead to a new generation of antiviral drugs.
Squad UK announced for WorldSkills London 2011
The members of Squad UK for WorldSkills London 2011 were announced on Wednesday 17 November by Skills Minister John Hayes. The Squad members, all aged 18-24, were chosen by UK Skills after taking part in tough selection competitions which took place last month. The skills represented by Squad UK range from Electrical Installation, Mobile Robotics and Web Design to Cooking, Hairdressing and Landscape Gardening.
What the public wants from changes to the postal service
Safeguarding the universal postal service remains crucial for its customers, according to a survey from Consumer Focus and Postcomm (the latter due to be merged with Ofcom). The in-depth survey found customers may be prepared to make trade-offs to ensure a sustainable postal service, so long as Royal Mail can still deliver a reliable, value-for-money, one-price-goes-anywhere service.
Eight out of ten people think beauty matters
New research conducted by the Arts & Humanities Research Council and CABE shows that eight out of ten people think everyone should be able to experience beauty on a regular basis. Only 18 per cent of people think that beauty matters less if you are poor. The project, called People and places, examines how to get people interested and involved in shaping the quality of the place where they live.
Links
Published 22 November 2010