World news story
News article Human Rights Council 34: Universal Periodic Review of Haiti
This statement was delivered during the 34th session of the Human Rights Council on 21 March 2017.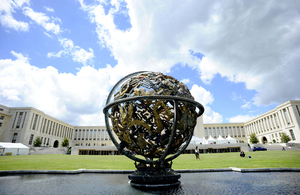 Thank you Mr Vice President,
The United Kingdom thanks the Independent Expert on human rights in Haiti for his work.
Human Rights in Haiti are complex and challenging. Social inequality persists and is at the very heart of that challenge. Poverty and illiteracy mean that many Haitians are unaware of their rights and disenfranchised from demanding them. This creates myriad problems, particularly around the rights of women, children and minorities. Prolonged pre-trial detention is overused and often unchecked, while prison conditions fall far below global standards. With weak rule of law and limited access to justice, too many Haitians struggle to assert their rights. Ability to pay should not equal impunity from justice. Recent reports on the extent of child trafficking are a serious and worrying development.
We support the Independent Expert's call for urgent action to tackle all of these challenges. Moreover, it is essential to ensure that the right resources are dedicated to addressing them in the longer term.
Given the enormity of these issues, we are disappointed that the renewal of the mandate of the Independent Expert looks unlikely. We believe this is not consistent with the stated commitment of President Moise to make human rights a priority of his administration and we hope the Government will urgently reconsider this approach.
The UK encourages the new Haitian government to work closely with OHCHR and partners in implementing the recommendations made by the IE in his latest report.
Does the Independent Expert believe that the human rights situation in Haiti has improved to the extent that a dedicated UN monitoring mechanism is no longer needed?
Published 21 March 2017