World news story
Successful visit from Newcastle University
Thank you to Newcastle University for their informative talk in Quito, and to all those who attended.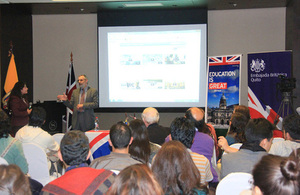 Dr. John Terry, Head of the International Office, Marketing and Student Recruitment at Newcastle University in England, visited Quito on Wednesday 19th March and gave an informative presentation on the academic opportunities that the university has to offer.
The talk covered the range of courses on offer, information about life in Newcastle and some guidance on how to apply. There was an excellent turnout from potential students and academic professionals, and the talk was followed by a lively question and answer session.
Th following day Newcastle University signed a cooperation agreement with the University of Cuenca in the presence of HM Ambassador to Ecuador, Patrick Mullee.
Newcastle University was established in 1834 and is a member of the Russell Group, an association of leading research-intensive UK universities. It is ranked in the top 20 of UK universities and in the top 200 of universities worldwide. Newcastle University is a multidisciplinary university with three core faculties: Faculty of Humanities and Social Sciences Faculty of Medical Sciences Faculty of Science, Agriculture and Engineering
The University is committed to world-class research and teaching, as well as to serving the local, national and international community. It has an active internationalization strategy in order to develop strategic partnerships with leading universities worldwide.
Published 21 March 2014