News story
Newborn screening programmes awarded funding to trial electronic results sharing
The new trials aim to cut delays and reduce risk to newborn care.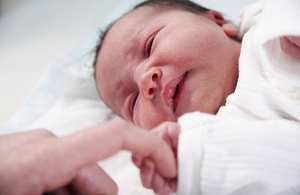 In November 2013 the newborn screening programmes were awarded funding as part of a consortium of organisations trialling the electronic sharing of screening results in order to reduce delays and minimise the risk of data errors. The ability to share this essential medical information between healthcare providers from the very beginning of the patient journey eliminates the need to manually transfer and repeatedly input data, assisting in the provision of safer, consistent and more effective treatment plans.
Dr Anne Mackie, Director of Programmes for the UK National Screening Committee, said:
The NHS screening programmes are very pleased to be participating in these innovative projects that will ultimately improve the clinical experience for the child, their family and the midwives, doctors and nurses involved, while providing a safer and more robust method for sharing important patient information.
The Safer Hospitals Safer Wards Technology Fund has awarded the funding as part of the initiative to facilitate the widespread adoption of modern, safe standards of electronic record-keeping and support the rapid progression from paper-based systems for patient notes to integrated digital care records.
Published 8 January 2014