World news story
New Zealand agritech Wildeye wins London trip
The UK Department for International Trade awards New Zealand agritech Wildeye a business trip to London to support their global expansion.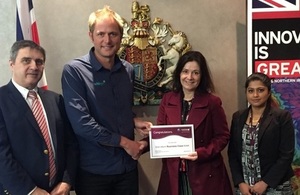 The UK Department for International Trade is delighted to announce that innovative New Zealand company Wildeye is the successful entry into our agritech competition to promote trade and investment opportunities between the UK and New Zealand.
Wildeye is a farm monitoring solution for irrigation management which was established in New Zealand in 2002. Now with offices in Australia and the US, Wildeye has delivered tens of thousands of cellular, cloud connected devices globally to help farmers and large organisations easily and accurately monitor soil moisture, flow, tank levels and pressure.
Wildeye is seeking to expand their footprint to include the UK to help build their global business and better service their growing European customer base.
A representative from Wildeye will fly business class direct to London courtesy of Qatar Airways to attend the World Agri-Tech Innovation Summit on 17 to 18 October, Europe's largest agri-tech meeting with over 250 agribusiness leaders, farmers, tech start-ups and investors. They will also participate in a wider business programme.
James Riddell, Wildeye co-founder and CEO said:
The UK is a market with great potential for Wildeye and with DIT's support, this trip will allow us to make connections and lay the foundations to expand our network. We are very thankful to DIT and Qatar Airways for the opportunity, and we look forward to seeing Wildeye helping more UK farmers.
British Consul General to New Zealand, Robin Shackell said:
Fantastic job Wildeye. You have a terrific product which should do extremely well in the UK. Looking forward to reports on your progress.

We had 55 agritech companies take part in the competition. It was impressive to see the depth of innovation in New Zealand agritech companies. Whilst we can only award one winner, we are excited about the potential for UK-Australia partnerships in this space, and look forward to working with New Zealand agritech companies to support their business growth.
Adam Radwanski, Senior Manager Australasia for Qatar Airways said:
Congratulations to Wildeye. We are delighted to support their global expansion plans and to help foster trade and investment links between New Zealand and Britain. We look forward to welcoming them on board Qatar Airways.
About UK agritech
Agricultural science and technology is revolutionising farm practices and rapidly becoming one of the world's fastest growing sectors.
The UK's combination of world-class science, cutting edge technology, a progressive food and farming supply chain and a dynamic business environment puts it at the forefront of this revolution and makes it the ideal destination for New Zealand agritech companies looking to grow their business internationally.
About DIT
The UK's Department for International Trade (DIT) has overall responsibility for promoting UK trade across the world and attracting foreign investment to our economy. We are a specialised government body with responsibility for negotiating international trade policy, supporting business, as well as delivering an outward-looking trade diplomacy strategy.
More information for businesses on the UK trade and investment opportunity is at www.great.gov.uk. Follow us on Twitter in New Zealand @tradegovukNZL
Notes
For more information on Wildeye visit www.mywildeye.com and follow them on Twitter @mywildeye
Published 2 August 2017