New Year Honours for Justice staff
Staff from across the Ministry of Justice have been recognised in the New Year Honours list 2011.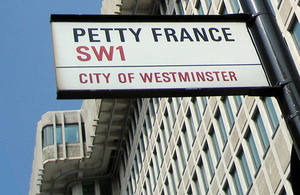 Philip Taylor, the Senior Governor at HM Prison Wormwood Scrubs received an OBE. He joined the Prison Service in 1978 as an Officer and has just completed 32 years of service. He said he was 'overwhelmed' at being awarded and is 'exceedingly proud and humbled at receiving this honour'. He hopes that 'those who have and do work with me can share in this award as recognition of the work of the prison service as well as an individual'.
Norman Draper, the Justices' Clerk for Merseyside, was awarded an OBE. Norman began his career in the courts over 30 years ago and has been Justices' Clerk in Merseyside since 2000. Norman said one of the most rewarding parts of his job was, 'working with marvellous people'. On hearing he was to be honoured by the Queen he said: 'I have to say I was shocked and very pleased, and there's now competition between my three children about who gets to come with me to the palace.'
Also honoured this year was Carolyn Downs, former Deputy Permanent Secretary of MoJ, and current Chief Executive of the Legal Services Commission, who received a CB.
Full list of the 2011 New Year Honours.
Published 6 January 2011