News story
New working group to examine research transparency
The group will be made up of representatives from the higher education sector, research investors, the research community, scholarly publishers…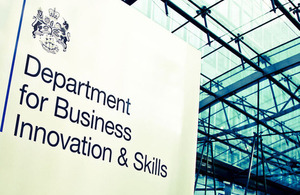 The group will be made up of representatives from the higher education sector, research investors, the research community, scholarly publishers and libraries. It will examine how access to research findings can be made more transparent and accessible.
Speaking at the British Science Festival in Bradford, David Willetts said:
"Transparency is at the heart of the Government's agenda and it should apply to published research. We do fantastic research in the UK, of which we can be rightly proud, but I want to ensure that people are given the opportunity to know more about the projects that government funds.
"Research stimulates and fuels innovation and economic growth. So, to maximise UK innovation we need to maximise access to and the use of research findings.
"Technology developments and a desire for greater transparency are creating new demands in a rapidly changing research publications environment. The working group will be made up of a range of parties affected, and provides an opportunity for them to explore the issues that need to be addressed."
The independent working group emerged following transparency discussions at a round table meeting convened by David Willetts. Members of the group will assess how access to research findings might be expanded in the most appropriate way - taking into account a wide range of considerations.
The group will be chaired by Dame Janet Finch DBE, Professor of Sociology at Manchester University and independent co-Chair of the Council for Science and Technology.
**Notes to editors:
**1. The group's work will be supported by BIS, HEFCE, the Publishers Association and Research Councils UK. The Research Information Network will provide the Group's secretariat.
The group will hold its first meeting in mid-October and aims to produce recommendations to government in the spring of 2012.

Focussing on academic publications, specifically journal articles, conference proceedings and monographs, the working group will take in to account parallel work relating to research data and other outputs being conducted by the Royal Society.

BIS's online newsroom contains the latest press notices, speeches, as well as video and images for download. It also features an up to date list of BIS press office contacts. See http://www.bis.gov.uk/newsroom for more information.
Notes to Editors
Contact Information
Name BIS Press Office Job Title
Division COI Phone
Fax
Mobile
Email NDS.BIS@coi.gsi.gov.uk
Name Lucy Bell Job Title
Division Department for Business, Innovation and Skills Phone 020 7215 5361 Fax
Mobile
Email Lucy.Bell@bis.gsi.gov.uk
Published 15 September 2011