World news story
New welfare centre for British army families
A new welfare centre will be opened in Domain for the benefit of Royal British Legion (RBL) and British Forces Parents Fiji (BRISFAF).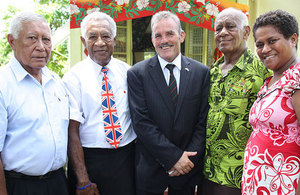 The Government of Fiji has allocated for rental a building in Domain which will be extended and refurbished to accommodate the welfare centre. Funding for the extension and refurbishment of the building has been provided by the UK Ministry of Defence's Community Covenant Trust through a grant of £197,426 (approximately FS593,000) towards this project. The facility will provide office space for Royal British Legion (RBL) and British Forces Parents Fiji (BRISFAF) and centre where families of British Armed Forces soldiers can meet or hold social events.
The RBL (Fiji Branch) was established in May 2010. Since then the Legion has raised more than F$83,000 through Charity Auction nights and poppy appeals. With the money raised and assistance received directly from the RBL Headquarters in the United Kingdom, the RBL Fiji Branch assists the families of soldiers serving in the British Armed Forces with various projects. These include repairs after cyclone damage and small business start-ups for income generation.
On Tuesday, 18 February, Minister for Defence, Hon Jonetani Cokanasiga will hand over keys of the building to the British High Commissioner, HE Mr Roderick Drummond at 10:00am at Quarters No. 7, Domain.
Further information
British Army Welfare Officer, Major Jim Hall has been working since 2011 to establish a Welfare Centre in Fiji for the benefit of RBL and BRISFAF. BRISFAF look after the welfare of serving and retired British Armed Forces soldiers and their families and RBL, the welfare of any serving or retired soldier and their families.
Follow the British High Commission Suva on Facebook
Published 17 February 2014