News story
New website will help students pick the right degree course
Today, the Business Secretary Vince Cable is launching a new website that features a standardised set of data called the Key Information Set…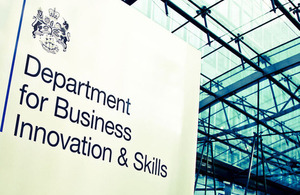 Today, the Business Secretary Vince Cable is launching a new website that features a standardised set of data called the Key Information Set (KIS). The completely revised Unistats website (http://unistats.direct.gov.uk/) provides extensive information for over 31,000 courses in the UK, including student satisfaction ratings, graduate salaries and employment, tuition fees and financial support, and the cost of accommodation.
The new KIS data have been collated after consulting students about the information they find most useful when they are choosing higher education courses. The data for each course link directly to the relevant course webpage, which provides more detail on what the course contains and how it will be taught.
For the first time prospective students will be able to search and compare information about courses across the UK, focusing on the factors that are most important for them. They will also be able to create a shortlist of their favourite courses and create a detailed comparison page, to make it easier to compare their options.
Results from the 2012 National Students' Survey, published today, will also be included in the site.
Dr Cable said:
"Applying to university is a big decision and we want to ensure that all students, whatever their background, have the key facts at their fingertips to help them make the right choice for them. The introduction of the Key Information Set represents a major step forward for students, their parents, and their school and college advisers."
HEFCE Chief Executive, Sir Alan Langlands, said:
"It's the first time these kinds of data have been brought together in this way, providing reliable, impartial information to students in a format that is useful to them, in the places they want to find it. I would like to pay tribute to the hard work and commitment of universities and colleges in providing the data and enhancing the information that is available about higher education."
Professor Janet Beer, Vice-Chancellor of Oxford Brookes University and Chair of the Higher Education Public Information Steering Group which led the development of the Key Information sets, said:
"Research into the information students most want to see has underpinned the development of Key Information Sets. The KIS includes the information students say they need to make informed choices and will be published where they want to see it.
"Of course key Information Sets do not provide the complete picture and should not be used as the sole basis for making a decision where to study, that was never the intention. They provide an excellent starting point for anyone considering a degree and the basis for further investigation. I'm hugely confident they will be a success."
Rachel Wenstone, NUS Vice President (Higher Education) said:
"The Key Information Set is a new addition to the wide variety of resources students need to make sure they make the right application choices.
"This information needs to be combined with an understanding of the learning environment, the relationship between students and staff, as well as the role of student representation, all of which are such important factors in empowering individuals to make the right choices for them.
"We need to see a continued commitment from the higher education sector to provide increasingly relevant and contextualised information to prospective applicants, and this should be seen as another step on that journey."
Dr Cable will see the new Unistats site go live during a visit to Strode College in Street, Somerset this morning.
**Notes to editors:
**1. The HE White Paper "Students at the Heart of the System (June 2011) set out the expectation that higher education institutions would provide a standard set of comparable information about their courses (the Key Information Set), by September 2012.
The KIS covers full-time and part-time undergraduate higher education courses in England, Wales, Scotland and Northern Ireland for 2013-14 which subscribe to the Quality Assurance Agency (QAA). It also covers undergraduate programmes taught through further education colleges in England and Wales (this applies to colleges funded indirectly through a higher education institution and for courses HEFCE funds directly). The KIS does not cover short courses (one year full-time equivalent or less), postgraduate courses, those delivered entirely overseas, or closed courses.

Developments to the KIS have been made in collaboration with the Higher Education Funding Council for England (HEFCE), the Higher Education Funding Council for Wales (HEFCW), the Scottish Funding Council (SFC), the Department of Employment and Learning, Northern Ireland, Universities UK, GuildHE and the Association of Colleges (AoC). Unistats covers all HEIs in the UK and HE courses in FECs in England and Wales. It is overseen by the Higher Education Public Information Steering Group (HEPISG), chaired by Professor Janet Beer, Vice-Chancellor of Oxford Brookes University.

The development of the KIS has resulted from the following research, consultation and pilot study:
a. The views of 2,000 prospective and current students (collected during research in 2010 by Oakleigh Consulting and Staffordshire University)
b. Responses to the consultation HEFCE 2010/31
c. Four expert working groups considered specific parts of the KIS
d. A pilot study with eight institutions
e. User testing in late 2011 and early 2012 across England, Scotland and Wales with more than 200 prospective HE students.
More information can be found at: www.hefce.ac.uk/whatwedo/lt/publicinfo/kis/kisresearchanddevelopment/
Unistats data will also be used by other website providers. For example, Which? have already launched their guide and will shortly be updating their data to include Unistats data. The raw data that underlies the Unistats website is available for analysts and developers to download from the Higher Education Statistics Agency at www.hesa.ac.uk/unistatsdata

A separate press release is available today on the results of the 2012 National Student Survey (NSS). The NSS is one of the components of the KIS. http://www.hefce.ac.uk/whatwedo/lt/publicinfo/nationalstudentsurvey/nationalstudentsurveydata/

The Government's economic policy objective is to achieve 'strong, sustainable and balanced growth that is more evenly shared across the country and between industries.' It set four ambitions in the 'Plan for Growth' (PDF 1.7MB), published at Budget 2011:
To create the most competitive tax system in the G20

To make the UK the best place in Europe to start, finance and grow a business

To encourage investment and exports as a route to a more balanced economy

To create a more educated workforce that is the most flexible in Europe.
Work is underway across Government to achieve these ambitions, including progress on more than 250 measures as part of the Growth Review. Developing an Industrial Strategy gives new impetus to this work by providing businesses, investors and the public with more clarity about the long-term direction in which the Government wants the economy to travel.
BIS's online newsroom contains the latest press notices and speeches, as well as video and images for download. It also features an up to date list of BIS press office contacts. See http://www.bis.gov.uk/newsroom for more information.
Notes to Editors
Contact Information
Name BIS Press Office Job Title
Division Department for Business, Innovation & Skills Phone
Fax
Mobile
Email bispress.releases@bis.gsi.gov.uk
Name Katie Kilgallen Job Title
Division Department for Business, Innovation & Skills Phone 020 7215 1861 Fax
Mobile
Published 27 September 2012