World news story
New webinar series on Australian business opportunities
UK Trade & Investment Australia continues its popular webinar series on Australian business opportunities for British companies.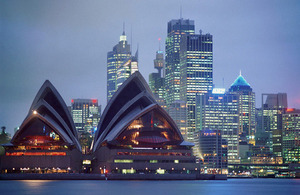 Boasting an impressive track record of 22 years of uninterrupted growth and a GDP increase projected to outperform every major advanced economy by 2017, it's easy to see why Australia is an attractive choice for UK companies and investors.
Sharing cultural and societal ties with the UK, as well as holding strong trade ties with Asia, the US and Europe, Australia's network of free trade agreements and desirable geographic location on the doorstep of Asia make it an ideal destination for British companies looking to grow in this region.
In the latest instalment of its popular webinar series, UK Trade & Investment Australia will focus on specific areas of demand identified by British companies.
Fashion online: selling to Australia
October 23, 9.30am -10.30am (UK)
The internet is fast becoming Australia's most popular shopping destination - 48% of Australians made online fashion purchases in 2012. A recent survey showed Australians spent the equivalent of £7.3 billion shopping online last year, up by 23 per cent from 2011. British companies such as ASOS and Topshop have already found firm footing in this high demand market and have opened the doors for other UK fashion labels to be successful here.
This webinar will outline the current opportunities and trends as well as tips on how to sell online effectively to Australia.
Contact Joanna.Olivera@fco.gov.uk for more information.
Super telescope, super opportunities: British Business and the Square Kilometre Array (SKA)
November 1, 9.30am - 10.30am (UK)
The Square Kilometre Array (SKA) will be the largest radio astronomy telescope in the world. The £1.3 billion project is funded by a consortium of governments from ten countries, including the UK, which will manage the ambitious project from Jodrell Bank Observatory.
The SKA will be located in the remote deserts of Western Australia and Southern Africa and is currently in the design and pre-construction phase. The scale, logistical and technological complexity of the project presents opportunities across several sectors. These include big data processing, analysis and infrastructure; sensor and communications technology; smart grids and energy efficiency; and construction. Major partners in the Australian arm of the project already include BAE Systems, Boeing, Cisco, Cray, Huawei, HP, IBM, Intel and Lockheed Martin.
The webinar will run as follows:
John Humphreys, Chair of The Australasian SKA and Big Data Industry Consortium (http://askaic.com/) will discuss the role of ASKAIC, Australian strengths and expertise, and collaborative opportunities for British businesses
Jim Thompson, Senior Trade Manager, UK Trade & Investment (UKTI) will explain how UKTI supports British companies in Australia
Svetozar Kovacevic, UK Science and Innovation Network (SIN), will outline how SIN complements UKTI to support British companies with science-based opportunities
Q&A
Contact Jim.Thompson@fco.gov.uk for more information
Published 30 August 2013
Last updated 22 October 2013
+ show all updates
Removed webinars that are now past and changed date of SKA webinar
First published.