Press release
New Veterinary Products Committee appointments
Four new members of the Veterinary Products Committee appointed.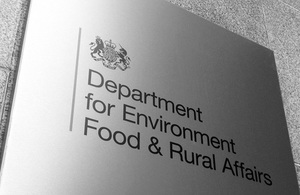 Rory Bell, Dr Elizabeth Kubiak, Peter Scott and John Sherington have been appointed new members of the Veterinary Products Committee, by Agriculture Minister Jim Paice. 
Mr Rory Bell is a Senior Lecturer at the University of Glasgow School of Veterinary Medicine and was appointed Head of the Small Animal Internal Medicine Service at the University of Glasgow Small Animal Hospital in 2009.  He is also Chairperson of the Education Committee of the European College of Veterinary Internal Medicine.
Dr Elizabeth Mary Kubiak has been Consultant Medical Microbiologist and Infection Control Doctor to Aneurin Bevan Local Health Board in Wales since 1994 and has been Lead Clinician for Microbiology Services across the county of Gwent for the last ten years.
Mr Peter Scott is practising veterinary surgeon and is a Royal College of Veterinary Surgeons Recognised Specialist in Fish Health and Production. He is currently President of the Fish Veterinary Society.
Mr John Sherington is an applied statistician with over 35 years' experience in applying statistical methods and ideas in biological research in a variety of contexts, using a wide range of statistical techniques.
The appointments adhere to the Code of Practice for Ministerial Appointments to Public Bodies. All appointments are made on merit and political activity plays no part in the selection process. However, in accordance with the original Nolan recommendations, there is a requirement for appointees' political activity (if any declared) to be made public. Neither Mr Bell, Dr Kubiak, Mr Scott nor Mr Sherington declared any political activity during the past five years.
Notes
The VMD is an executive agency of Defra and is responsible for ensuring the safe and effective use of veterinary medicinal products to protect public health, animal health, and the environment. The VPC advises the VMD on behalf of the Secretary of State. For more information go to http://www.vmd.defra.gov.uk/vpc/.
Members of the Veterinary Products Committee receive £148 a meeting with an additional £76 for preparation.
Published 5 January 2012