World news story
New UK Visa Application Centre opens in Oman
British Minister opens the new Visa Application Centre and announces the easing of student visa applications for Omanis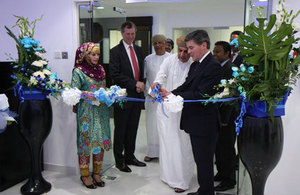 UK Foreign Office Minister Hugh Robertson has opened the new UK visa application centre in the Muscat Grand Mall. At the same time the UK has announced changes to simplify the visa application process for Omani students.
These changes follow the recent introduction of the Electronic visa waiver ,which allows Omani visitors to come to the UK visa free, so long as they complete an online waiver at least 48 hours before travel.
The package of enhancements is designed to offer Omanis the greatest possible comfort and convenience when considering the UK as a destination for business, leisure or study.
The new state of the art visa application centre is double the size of the previous facility and now provides far easier customer access. For an additional fee, customers can use the VIP lounge which provides a more personal service.
From the 6th April, Oman was added to the list of nationalities able to benefit from reduced documentary requirements for student visa applications.
FCO Minister Hugh Robertson said:
"The new visa application centre provides a first class experience for our Omani customers. The centre is much bigger than the old one, and will provide far greater comfort, especially for those customers opting to use the VIP facilities. Last year we welcomed more Omani visitors to the UK than ever before, and we hope our new centre and the EVW system will see this trend continuing. "
The British Ambassador to Oman Jamie Bowden said:
" It is fantastic news that we are able to simplify the visa process for Omani students. We have already done this for Omani tourists and business travellers through the introduction of the Electronic Visa waiver and the new application centre completes the transformation."
The Electronic visa waiver is proving extremely popular in Oman, with thousands of Omanis benefitting since it was introduced in January but a very small number of people make errors when completing the form which means they are not able to travel.
It is essential when completing an EVW that personal details exactly match a traveller's passport, this includes entering all middle names and punctuation. Travel details must also be correct including the last port of departure.
Published 8 April 2014