New UK passport design revealed
The new design features iconic landscapes and enhanced security features.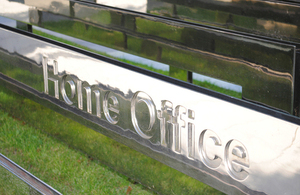 The new 10 year passport will be issued from October. Pages of the passport will contain well-known UK scenes, including the White Cliffs of Dover, the Gower Peninsula, Ben Nevis and the Giant's Causeway.
Better protection from identity theft
The enhanced security features will help protect citizens from identity theft and fraud.
They include:
moving the chip which stores the passport holder's details to the inside of the passport cover where it won't be visible. This gives additional physical protection as well as making it much harder to replace the chip without damage to the passport cover being spotted
a secondary image of the passport holder printed onto the observations page
a new transparent covering which includes several holograms to protect the holder's personal details
Keeping ahead of fraudsters
Sarah Rapson, chief executive of the Identity and Passport Service, said the new design will help the UK 'stay ahead of criminals who look to fraudulently alter or copy passports'.
She said: 'Through its combination of physical and electronic security features, the UK passport remains one of the most secure and trusted documents in the world, meeting rigorous international standards.'
The new passport will replace the current UK ePassport, which came out in 2006.
Passports over the years
Passports have changed considerably in their design since they were first launched in their modern form in 1915.
The first passport was a one-page document folded into eight, with a cardboard cover. Since then, there have been 15 different passports issued.
You can read more about the history of passports on the Identity and Passport Service website. You can also view our Flickr gallery below, which shows some of the designs over the years.
Published 25 August 2010